Protect Your Baby's Eyes And Ear from Water and Foam. Let Your Baby Enjoy Bathing Time Without Fear.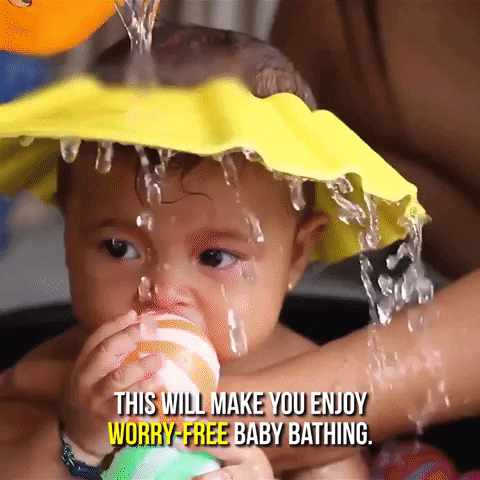 The shampoo contains chemicals. To protect your children, this innovatively designed shower cap can prevent soap and water from entering kids' eyes, while washing their hair.  They don't need to close their eyes while washing hair. You can enjoy your kid's bathing time and have a fun experience with your kids. 
Features: 
✔️ FOR BABY FROM 6 MONTHS - 12 YEARS OLD
The cap has a flexible design with 4 adjustable fasteners....so you can easily adjust the cap to fit your baby's head.
✔️ PREVENT EAR INFECTION & EYE DISEASES
Water entering the ear can cause an ear infection. Foam flowing into the eye will increase the risk of eye diseases. Wearing our shower cap your baby's eyes and ears will be protected completely because it keeps the water & foam out of his/her eyes and ears. 
✔️ COMFORTABLE TO WEAR
Our shower cap is made of high-quality EVA foam material that is soft, flexible and lightweight... It stretches a bit to help the cap stay on securely... And It's comfortable for your baby to wear during shampoo time 
✔️ ERGONOMIC FLEXIBLE DESIGN 
Our Bathing Protect Cap is a world-class product for your baby which adjustable to varying needs from the age of 0 to 6 years old. So regardless of the size and temperament of your baby, you can conveniently use its adaptability to your benefit.
✔️ QUICK TO CLEAN AND NON-SLIP 
Our Bathing Protect Cap is a revolutionary bath essential for your lovely ones that helps them enjoy bathing without worrying to slip.
Specifications: 
Material: 

Soft Eva 

Colour: Yellow, Blue, Pink
Weight: 9.07g
Sizes : 31.8 cm x 31 cm x 0.8 cm

OUR GUARANTEE
We truly believe that we offer some of the most innovative and inspirational child toys in the world, and we want to make sure we back it up with a risk-free 30-day guarantee.
Please note due to worldwide restrictions applied at the moment and limited resources the current shipping times are longer than usual. Always check the shipping updates HERE before placing the order. 
If you don't have a positive experience for ANY reason, contact us and we will make sure that your concerns are addressed and resolved as soon as possible to give you a reason to smile.
We have 24/7 customer service support available. Please visit our help centre here contact us via e-mail support@thebathly.com or use our contact form, we are here for you.